Dear Friends,
I am so excited that once again is the new season of selling
Girl Scout Cookies
. I remember many years ago in the late 90's when I was a girl scout; one of my favorite opportunities besides taking trips and camping was selling Girl Scout Cookies. Us girl scouts worked very hard to sell as many cookies as we could to help support our troops.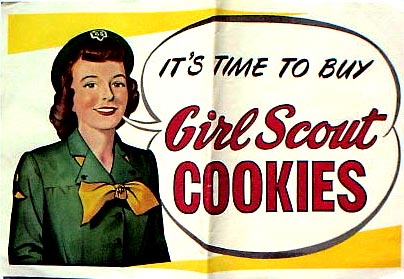 I remember my family and I would buy about fifteen boxes (no joke!) but we would keep some and give some to the local food bank and we would send the boxes to family members who lived nearby.
I love checking each year to see the new types of cookies that are sold. This year seems to have a great selection! It is too bad that I live in an area where Girl Scouts do not come directly to your door and I never see any booths setup outside the local supermarket.
This year the line up includes the Samoas, or Caramel deLites, Do-si-dos or Peanut Butter Sandwich, Tagalongs or Peanut Butter Patties, Thank You Berry Much, Lemonades, Savannah Smiles, Thanks-A-Lot, Trefoils or Shortbread, Shout Outs! and Thin Mints.
It is so funny that each person in my family loves a different cookie. For example, my brother's favorite is the Do-si-dos, my mom's favorite is the Thin Mints, my grandpa's favorite is the Trefoils, my husband's favorite is the Samoas, my grandma's favorite is the Savannah Smiles and my favorite is the Tagalongs. I would love to try the Lemonades, as I love cookies with lemon cream filling. I still miss my old favorite cookie, the Lemon Drop cookie which I still have not been able to find a replica. Perhaps they would consider bringing back "retired" cookie flavors.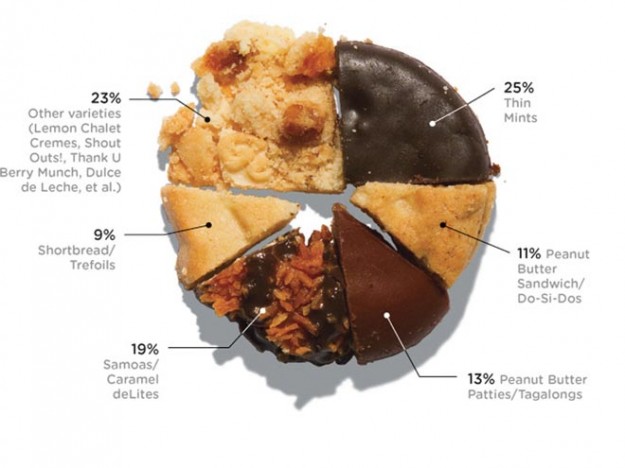 Cookie Favorites
If the Girl Scouts do not visit your area, you can purchase cookies by entering your zipcode at
http://www.girlscoutcookies.org/
. A representative from your county from the Girl Scouts will then contact you to place an order! Cookie booth sales are from January 28-March 3.
Which Girl Scout Cookie is your favorite?